The Scientific Council (SC) is an IUFoST Standing Committee. It is an elected body whose members are all Fellows nominated by other Academy Fellows and elected by the voting delegates of the National Scientific Bodies (Adhering Bodies).
The purpose of the Scientific Council is to advise on opportunities of scientific activity for IUFoST in keeping with the Union's vision and mission and to oversee the scientific output of the Union. Its responsibilities include maintenance of the scientific standard and integrity of all IUFoST activities. It is also responsible for recommendations of chairs and members of working groups, task forces to carry out specific tasks such as preparation of position papers and offering of expert advice as requested.
Members of the IUFoST Scientific Council, 2020-2022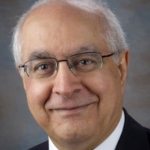 FEREIDOON SHAHIDI - CANADA, Scientific Council Chair 
Dr. Shahidi is University Research Professor, Memorial University of Newfoundland; Founder and Director of the International Society of Nutraceuticals and Functional Foods (ISNFF), Disciplinary Group of IUFoST; Founder and Editor-in-Chief of related publications (Journal of Food Bioactives, etc), one of the most cited authors in Food Science and Technology. He is Chair of the IUFoST Scientific Council and a Fellow of IAFoST.
Dr. Professor Vish Prakash
VISH PRAKASH - INDIA, Scientific Council Past Chair 
Dr. Professor Prakash is former Distinguished Scientist of CSIR India; Former Director of CFTRI Mysore; Past President of IAFoST; Chair of the IUFoST World Congress in Mumbai 2018; Founding Chairman of IFRIFANS, India, the International Foundation for Research in Food and Nutrition Security; member of numerous scientific publication boards; Chairman India Region of European Hygienic Engineering Design Group, Germany; Member, Global Phytonutrient Society (GPS) Tokyo, Japan; He has held the position of Vice President in IUNS, the sister Union to IUFoST. Elected to the IUFoST Board of Directors in 2018 and is now President of IUFoST.
HONGDA CHEN - USA, Scientific Council Chair Elect 
Dr. Hongda Chen is the National Program Leader of Bioprocess Engineering and Nanotechnology at the National Institute of Food and Agriculture (NIFA), USDA. He leads the national portfolio of food science, engineering and technology in research, education and extension for advancing food processing and manufacturing technologies, and value-added products. He also provides the national leadership for nanoscale science and nanotechnology for agriculture and food systems. Dr. Chen is a Fellow of IAFoST and member of the IUFoST Scientific Council.
STEPHANE GUILBERT - FRANCE, Counsellor 
Stephane Guilbert is Professor in Food Science at Montpellier SupAgro, France. His research is grouped around three main axes i) state of water in foods in relation to their physicochemical and microbiological stability, ii) Mass transfer (gas, water, solutes) in food and packaging and iii) emerging technologies to face the new challenges of sustainable processing of agricultural products. He is co-editor of Innovative Food Science & Technologies (IFSET) journal edited by Elsevier. He is a Fellow of IAFoST.