The Practical Human Nutrition module developers are Delia B. Rodriguez-Amaya, PhD, and Maria S. Nnyepi, DSc.
Delia B. Rodriguez-Amaya is the first woman president of this Academy in 2014-2016. Elected fellow of the Academy in 2003, she was voted member of the Executive Council for 2008-2010 and for 2010-2012.
From 1977 to 2010, she was professor of Food Analysis and Food Chemistry at the Faculty of Food Engineering, University of Campinas, Brazil, where she was intensely involved in teaching, research and administration. She was "honored professor" at the Commencement Ceremonies of four graduating classes of Food Engineering; adviser of 49 defended Master and Doctoral theses; Chairman of the Department of Food Science; General Coordinator for two terms of the Graduate Programs (Master and Doctoral) in Food Science, Food Technology, Food Engineering and Nutritional Sciences; and Coordinator of the Academic Council of the Faculty of Food Engineering for four terms.
She is the author of more than 230 scientific publications (books, book chapters, review and research articles in indexed journals); several of her articles got into the top ten most cited and/or most read papers of international journals. She has given more than 200 lectures in 30 countries and short hands-on intensive courses in various countries such as the Philippines, Mexico, Argentina, Chile, South Africa, Tanzania and China, mostly sponsored by FAO and HarvestPlus. She also presented more than 240 research papers in international (in more than 25 countries) and Brazilian conferences. She was research fellow of the Brazilian National Council for Science and Technology, in the highest category, for twenty years (1990-2010). She is a world renowned researcher on carotenoid analysis, chemistry and technology. She has also worked on mycotoxins, cholesterol, fatty acids, volatile compounds and flavonoids. She received many awards, including the 2012 Philippine Presidential Award "Pamana ng Pilipino" (Filipino Heritage), the 2010 East-West Center Distinguished Alumni Award, the University of Campinas  Zeferino Vaz Recognition Award for excellence in teaching and research three times  (1994, 1997, 2003), the Brazilian Society of Food Science and Technology's Andre Tosello Award (2005) and the Philippine Association of Food Technologists' 50th Anniversary Recognition Award (2010).
She is scientific adviser of the International Foundation for Science (based in Sweden); collaborator of HarvestPlus – Breeding Crops for Better Nutrition; member of the Editorial Boards of Trends in Food Science and Technology, Plant Foods for Human Nutrition, Archivos Latinoamericanos de Nutrición, Alimentos e Nutrição and Revista do Instituto Adolfo Lutz. She was member of the Editorial Board of six other journals, including the Journal of Food Composition and Analysis (2001-2011). She has been invited to participate in several FAO-WHO Expert Consultation Meetings and in technical ad hoc committees of the Brazilian Ministries of Education, Health and the Environment.
She earned her B.S. in Food Technology from Araneta University, Philippines, Magna Cum Laude. As an East-West Center grantee, she got her M.S. in Food Science from University of Hawaii. She was recipient of the East-West Center Professional Award for high scholastic achievement.  She earned her Ph.D. in Agricultural Chemistry from the University of California, Davis, where she was Board of Regents' Graduate Intern Fellow.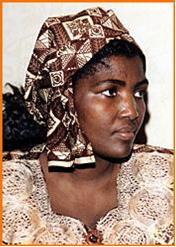 Maria S. Nnyepi is an Associate Professor in the Department of Family and Consumers Sciences at the University of Botswana.